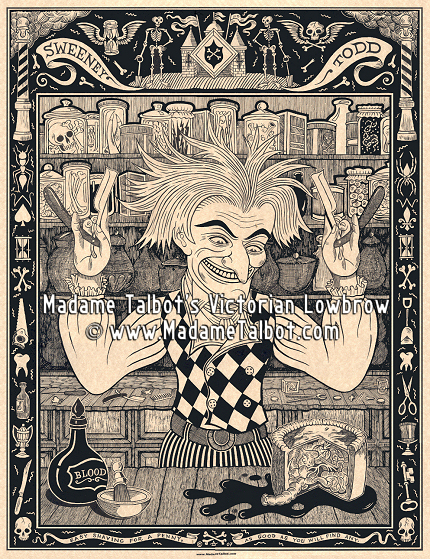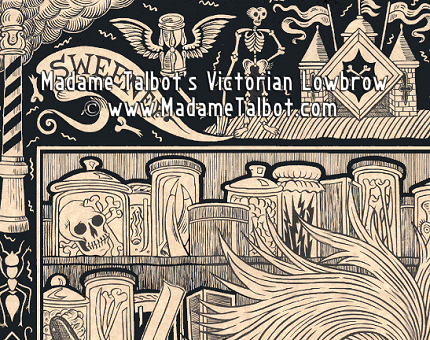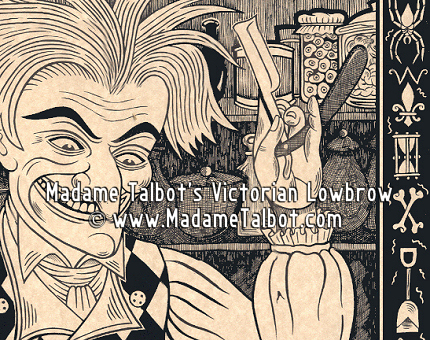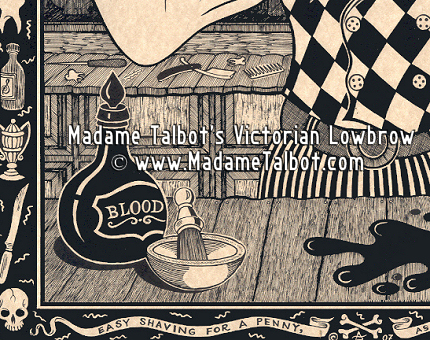 Sweeney Todd Demon Barber of Fleet Street Poster
#PSTR-1047




On April 14, 1785, The Daily Courant from Fleet Street blared its headline: "A Cut-Throat Barber," The rest of the story read:
"A horrid murder has been committed in Fleet Street on the person of a young gentleman from the country while on a visit to relatives in London.

"During the course of a walk through the city, he happened to stop to admire the striking clock of St. Dunstan's Church and there fell into a conversation with a man in the clothing of a barber.

"The two men came to an argument, and all of a sudden, the barber took from his clothing a razor and slit the throat of the young man, thereafter disappearing into the alleys of Hen and Chicken Court and was seen no more."

It was sometime in 1785 when Sweeney Todd rented his shop located at 186 Fleet Street, between St. Dunstan's Church and the Hen & Chicken Court. Once he had established his business, he placed a placard in his window which read:

"Easy shaving for a penny
As good as you will find any."

Sweeney Todd was more than just a mere barber and shaver. His shop was stocked with momentos he had collected over the years, jars with teeth he had pulled, and corked vials of blood he had let, along with the many wigs made from human hair that he braided and hung from the rafters.

The shop was a small, dank and dark place with a single wooden barber chair that stood in the middle of the floor, a bench against the wall and a cabinet filled with his tools of the trade: scissors, combs and many, many razors. When he closed his shop, he only had to go upstairs where he lived, and there was even private access to the basement.

His barber chair was altogether different from other barber chairs, in that he had it rigged so that with just the touch of a secret lever, the chair would twirl in place, dumping the occupant in the basement, all while bringing up a different barber chair - ready for the next customer.

Sweeney Todd had been using the abandoned crypts beneath St. Dunstan's church in order to hide his grisly deeds, but he eventually ran out of room. Enter Margery Lovett. Mrs. Lovett had set up a pie shop on the left side of Bell Yard, which sold veal and pork pies.

"Oh, those delicious pies," wrote one admirer. "There was about them a flavour never surpassed and rarely equaled; the paste was of the most delicate construction, and impregnated with the aroma of delicious gravy that defied description."

This poster is 17 inches wide by 22 inches high, generous black ink lushly printed on parchment stock.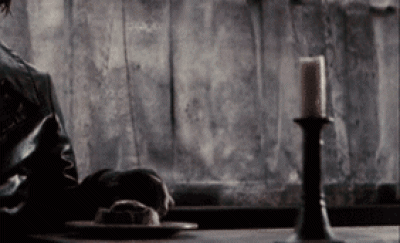 ---
PLEASE NOTE:
This poster image was hand-drawn by Madame Talbot using General's Cedar Pointe #333-2HB pencils on Crescent 201.6 Hot Press Medium Weight illustration board at original poster size. An antique Koh-i-Noor rapidograph pen and Dr. P. H. Martin's Bombay Black India ink were used for final inking.

After completion, the image was hand-delivered to Ryan Gwinner Press in Portland, Oregon and printed on an offset printing press.

Absolutely no computers were used in the creation of this poster - from start to finish.

The copyright notice is on the website image only and not on the printed poster.
---
---