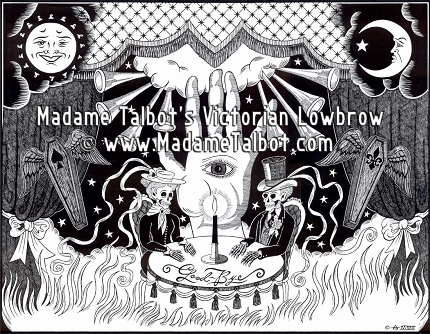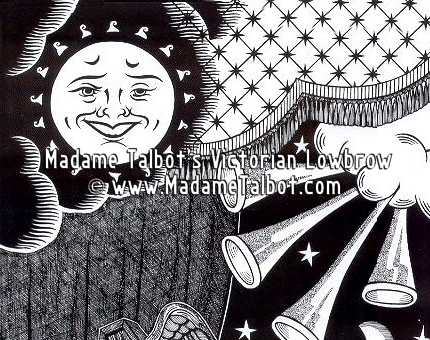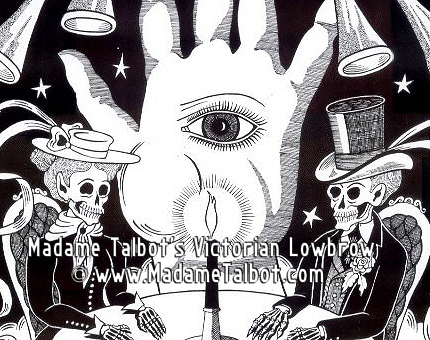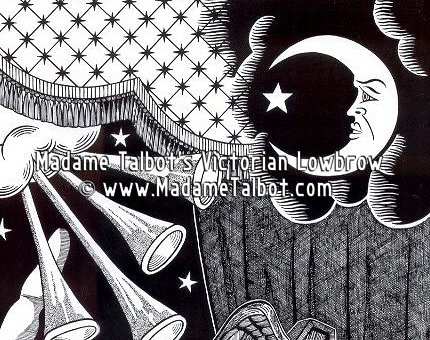 Click picture for more detail


THE VICTORIAN HOUDINI HALLOWEEN SEANCE POSTER

During the mid-nineteenth century, the belief that the living was able to communicate with the dead was all the rage in Europe and America.

By 1850, being a spiritualist soon became an accepted profession. Soon a growing number of friends and families would gather around darkened tables, join hands and attempt to contact their dearly departed with the help of a professional medium or "sensitive."

Séances were usually held with the usual knockings, table tipping, rappings on the walls and objects hurled across the room by unseen hands. The most famous woman to practice spiritualism of that era was Mary Todd Lincoln and Queen Victoria, who's belief in spiritualism grew stronger after both of their beloved husband's had died.

This poster is 22 inches wide by 17 inches high, generous black ink lushly printed on glossy white stock.

PLEASE NOTE: This poster image was hand drawn by Madame Talbot using nothing more than pen and ink on illustration board.

After the poster was completed, it was taken to a real printer and printed on an offset printing press.

Absolutely no computers were used in the making of this poster, all of it was drawn entirely by hand.

The copyright notice is on the website image only and not on the printed poster.




Order by #PSTR-1038
THIS POSTER IS OUT OF PRINT

Free Shipping in the USA



Buy any three poster prints and choose a fourth print for FREE!


CLICK HERE

if you need more information.







Copyright © MADAME TALBOT. All rights reserved.
This Madame Talbot Poster Print has been registered with the
U.S. Copyright Office in Washington, D.C.