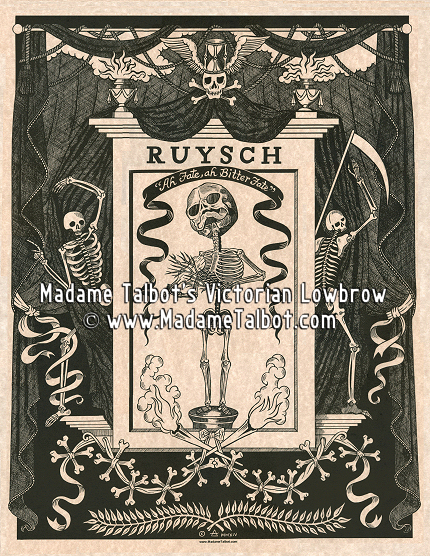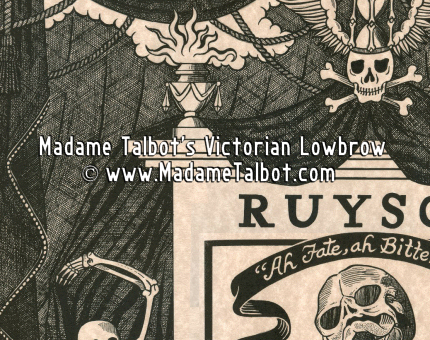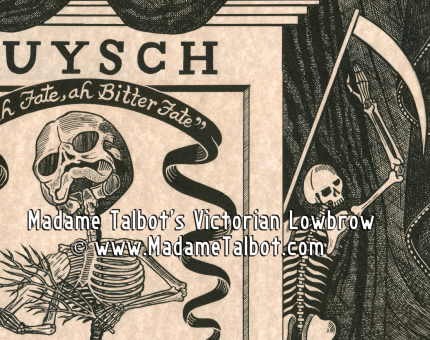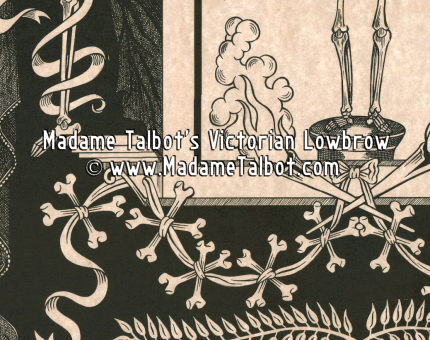 Frederik Ruysch Anatomy Poster
#PSTR-1114



I admit it, I am a fangirl of Frederik Ruysch - who is quite possibly one of the most intriguing historical figures I have ever read about. When I think of "extreme crafting", I think of Frederik Ruysch.

Ruysch was born in The Hague and began as an apprentice at the local apothecary. I should note that I purchased seven medieval bezoars that originally came from The Hague apothecary, which was torn down in the 1930s. I was told that this was the same apothecary that Ruysch had apprenticed at as a young boy, which means that there is a pretty good possibility that he handled these bezoars. A girl can dream!

Fascinated with anatomy, Ruysch devised a way to keep scarce and expensive cadavers around longer by way of wet preparation using spirits of Zeus and Poseidon to preserve organs. He is famous for assembling one of the most famous anatomical specimen collections, which is right up there with John Hunter's collection.

He is mostly known for his amazing skills in the preparation and preservation of specimens, using a secret liquor balsamicum that used clotted pig's blood, Berlin blue and mercury oxide. This solution is thought to be one of the first uses of arterial embalming fluid. His daughter Rachel Ruysch made the beautiful fine lace cuffs and collars that covered the delicate stumps of cadaver parts which were then immersed in his magical elixir.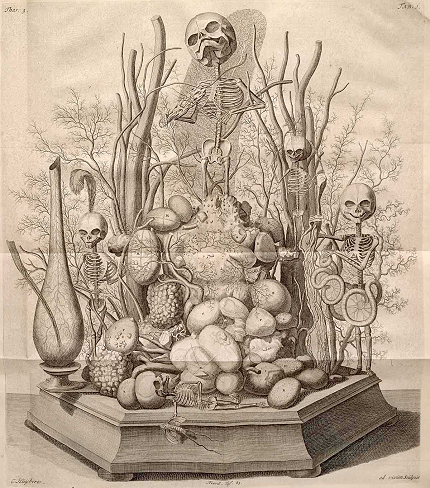 Frederik Ruysch Diorama illustrated by Cornelius Huyberts



His most famous are the anatomical diorama's using small feotal skeletons positioned in lifelike poses crying into handkerchiefs, wearing strings of pearls, or playing the violin. The scenes were intended to work like plays or stories, representing particular themes or ideas - that, for example, our life on earth is short.

Ruysch was also a showman - his public dissections were held by candlelight with musical accompaniment, and during intermission, refreshments were served.

Proud of his handiwork, Ruysch had many public viewings at prominent Amsterdam houses, and his collections became known far and wide as one of the 8th wonders of the world.

In 1717, Ruysch sold his amazing collection to Peter the Great for 30,000 guilders and the majority of it still survives today.

This poster is 17 inches wide by 22 inches high, generous black ink lushly printed on parchment stock.






---
PLEASE NOTE:
This poster image was hand-drawn by Madame Talbot using General's Cedar Pointe #333-2HB pencils on Crescent 201.6 Hot Press Medium Weight illustration board at original poster size. An antique Koh-i-Noor rapidograph pen and Dr. P. H. Martin's Bombay Black India ink were used for final inking.

After completion, the image was hand-delivered to Ryan Gwinner Press in Portland, Oregon and printed on an offset printing press.

Absolutely no computers were used in the creation of this poster - from start to finish.

The copyright notice is on the website image only and not on the printed poster.
---
---