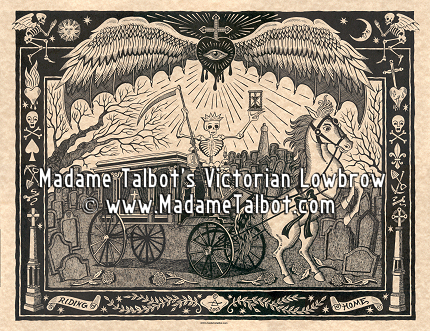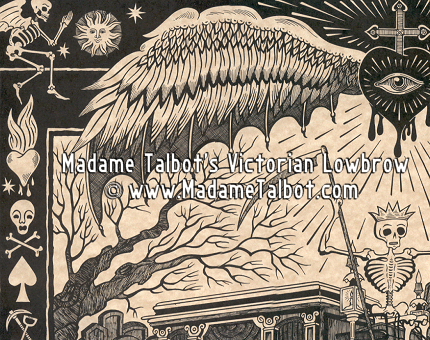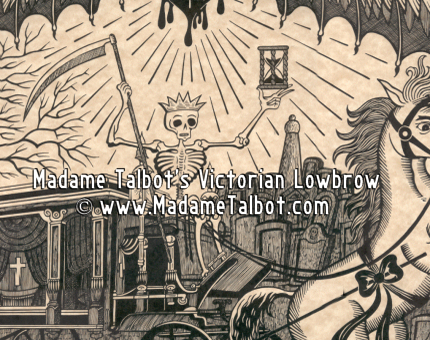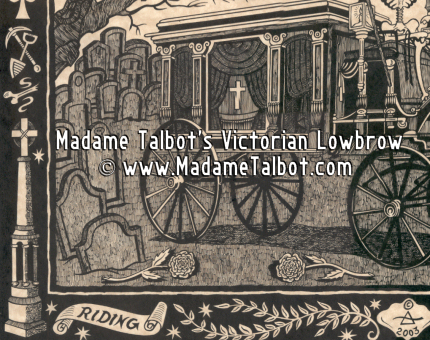 Riding Home Poster
#PSTR-1087




It's Mid October and there you are, whistling past an old forgotten cemetery around midnight, the moonlight is peeking through the old oak trees.

What is that in the distance you hear? Look over yonder, to the sounds of a horse pulling a wagon. It's coming closer and closer, down the old cobblestone path until you see the lone driver looming into view, it's the King of Death in all his glory!!!

In his left hand he is carrying an hour glass as a reminder to live and in the other, waving a scythe that any one can soon be cut down.

He is driving a gold-crested Victorian hearse pulled by a grand white horse. Who is on board on this moonlight night? Someone is riding home to the bosom of the earth.



'Dust thou art,

and unto dust

thou shalt return.



This poster is 22 inches wide by 17 inches high, generous black ink lushly printed on parchment stock.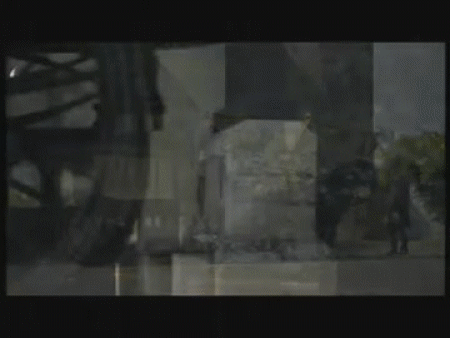 ---
PLEASE NOTE:
This poster image was hand-drawn by Madame Talbot using General's Cedar Pointe #333-2HB pencils on Crescent 201.6 Hot Press Medium Weight illustration board at original poster size. An antique Koh-i-Noor rapidograph pen and Dr. P. H. Martin's Bombay Black India ink were used for final inking.

After completion, the image was hand-delivered to Ryan Gwinner Press in Portland, Oregon and printed on an offset printing press.

Absolutely no computers were used in the creation of this poster - from start to finish.

The copyright notice is on the website image only and not on the printed poster.
---
---