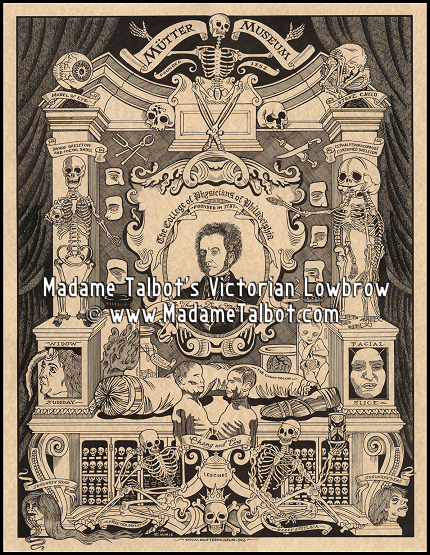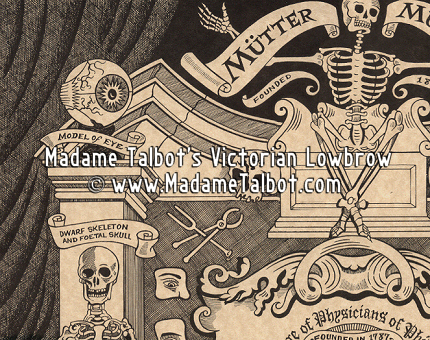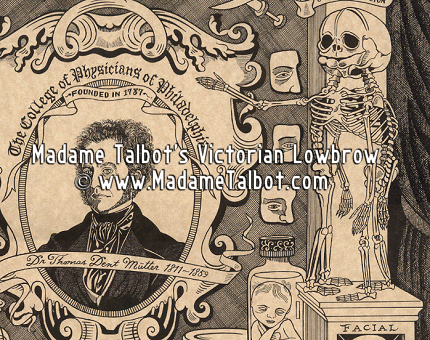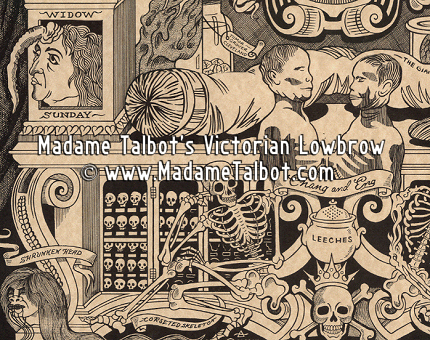 Mütter Museum Poster
#PSTR-1059




We are very proud to present this one-of-a-kind poster that was created just for Mütter Museum in Philadelphia, and is being sold at the Mutter Museum or through Madame Talbot stores ONLY.

This poster is a combination of the Mütter Museum's most popular exhibits:

Giant Skeleton welcoming folks with open arms
Victorian eye model
Stone Child
Dwarf Skeleton holding a foetal skull
The Cephalothoracopagus Conjoined Skeleton
Widow Sunday (aka Madame Dimanche)
Gangrenous Hand in Jar
Grover Cleveland's Tumor
The Giant Colon
Human Heart in Jar
Foetus in Jar
Facial Slice
The plaster cast of Chang and Eng
Professor Hyrtle's Skull Collection
Corseted Skeleton
Harry Eastlack (FOP) Skeleton (Fibrodysplasia Ossificans Progressiva)
Leech Jar
And a real Shrunken Head for each corner of the poster.

This poster is 17 inches wide by 22 inches high, generous black ink lushly printed on parchment stock.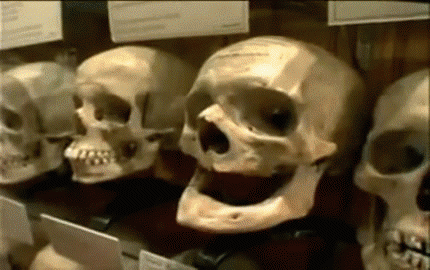 ---
PLEASE NOTE:
This poster image was hand-drawn by Madame Talbot using General's Cedar Pointe #333-2HB pencils on Crescent 201.6 Hot Press Medium Weight illustration board at original poster size. An antique Koh-i-Noor rapidograph pen and Dr. P. H. Martin's Bombay Black India ink were used for final inking.

After completion, the image was hand-delivered to Ryan Gwinner Press in Portland, Oregon and printed on an offset printing press.

Absolutely no computers were used in the creation of this poster - from start to finish.

The copyright notice is on the website image only and not on the printed poster.
---
---