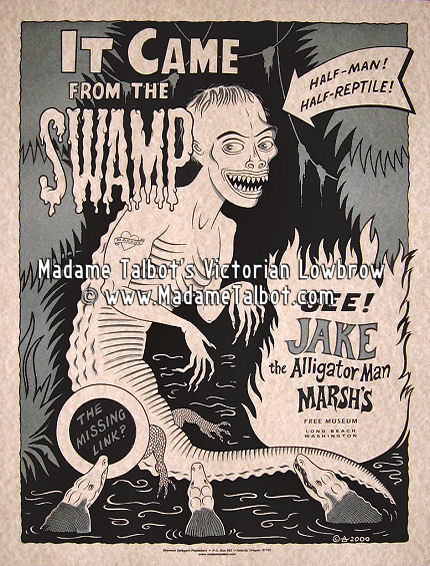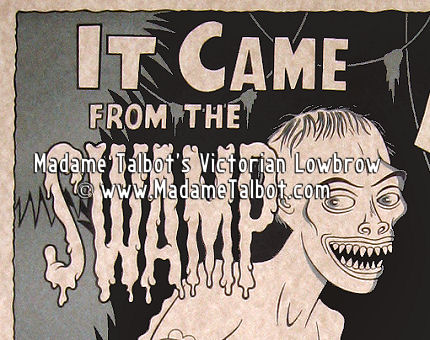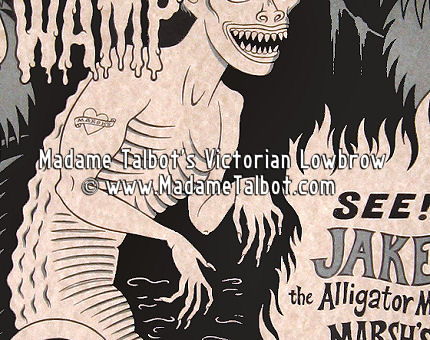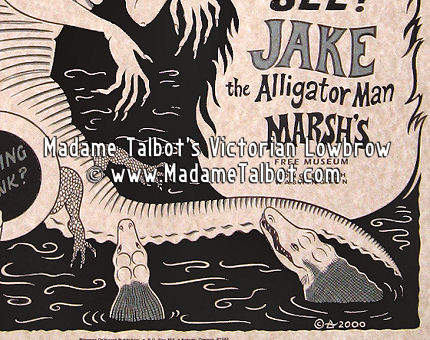 Jake the Alligator Man Circus Sideshow Poster
#PSTR-1008




We are very proud to present this one-of-a-kind poster that was created just for Marsh's Free Museum in Long Beach, Washington.

What creatures lurk in the darkest parts of the swamp? Why it's Jake the Alligator Man, nearly as legendary as the Fiji Mermaid.

This half man/half monster has graced the cover of the World Weekly News and can be seen today at Marsh's Free Museum in Long Beach, Washington. Is this the Missing Link? Students of Darwin's theory, take note.

If you don't get a chance to head to the coast to see Jake in person, second best thing is to get this poster and have it adorn your wall or den or reptile cage. But be careful, it's feeding time and Jake the Alligator Man is hungry.

This poster is 17 inches wide by 22 inches high, generous black ink lushly printed on parchment stock.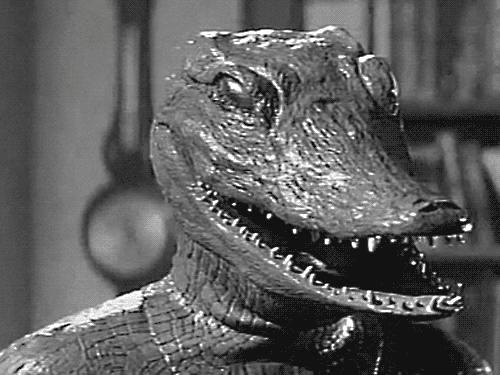 ---
PLEASE NOTE:
This poster image was hand-drawn by Madame Talbot using General's Cedar Pointe #333-2HB pencils on Crescent 201.6 Hot Press Medium Weight illustration board at original poster size. An antique Koh-i-Noor rapidograph pen and Dr. P. H. Martin's Bombay Black India ink were used for final inking.

After completion, the image was hand-delivered to Ryan Gwinner Press in Portland, Oregon and printed on an offset printing press.

Absolutely no computers were used in the creation of this poster - from start to finish.

The copyright notice is on the website image only and not on the printed poster.
---
---