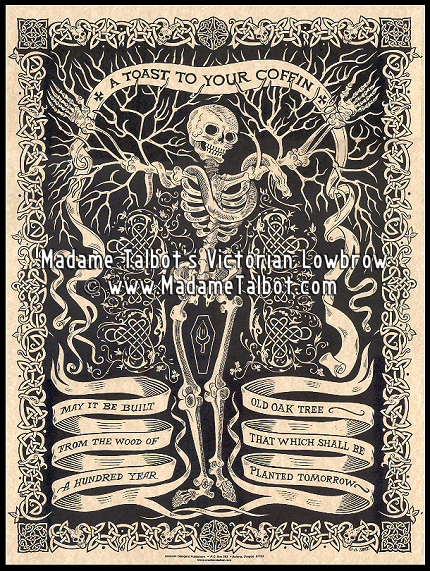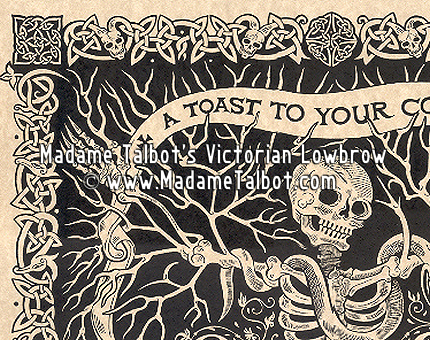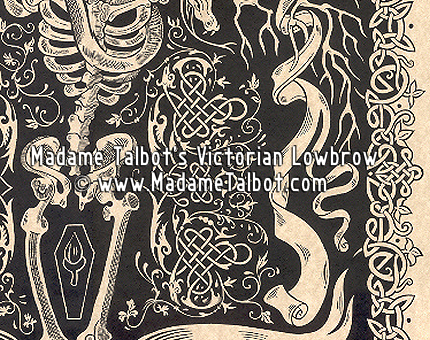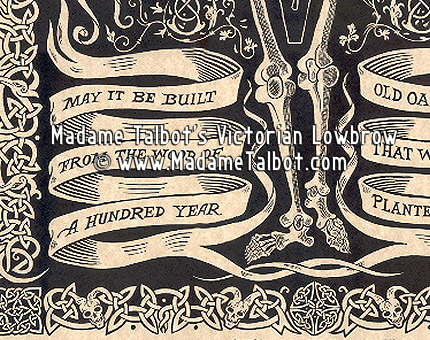 A TOAST TO YOUR COFFIN

A custom as old as time itself, would be the toast:

The word "toast," meaning a proposal of health, originated in Rome, where an actual bit of spiced, burned bread was dropped into wine to improve the drink's flavor, absorb its sediment, and thus make it more healthful.

The goblet of wine would be passed from guest to guest until it reached the person being honored who would drain the goblet and eat the morsel of bread in the bottom.

This poster celebrates the Irish toast, beautifully embellished with a Celtic symbol border, the oak tree the symbol of death and the acorn on the coffin a symbol of life.

This poster is 17 inches wide by 22 inches high, generous black ink lushly printed on parchment stock.

PLEASE NOTE: This poster image was hand drawn by Madame Talbot using nothing more than pen and ink on illustration board.

After the poster was completed, it was taken to a real printer and printed on an offset printing press.

Absolutely no computers were used in the making of this poster, all of it was drawn entirely by hand.

The copyright notice is on the website image only and not on the printed poster.




Order by #PSTR-1040
USA Price: $14.95



Free Shipping in the USA
---


Canada/UK/Worldwide Price: $19.95



This price includes shipping to Canada/UK/Worldwide
---
Buy any three poster prints and choose a fourth print for FREE!.
Shipping will be combined on all poster orders.



CLICK HERE

if you need more information.

Copyright © MADAME TALBOT. All rights reserved.
This Madame Talbot Poster Print has been registered with the
U.S. Copyright Office in Washington, D.C.