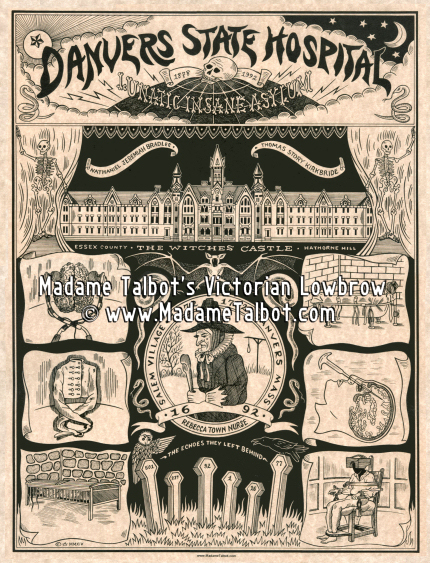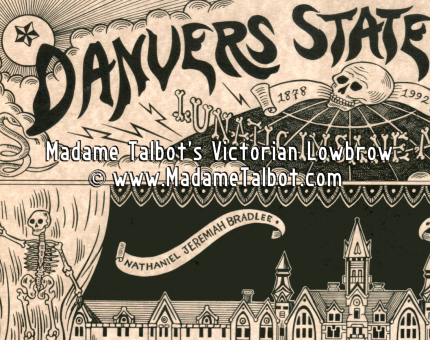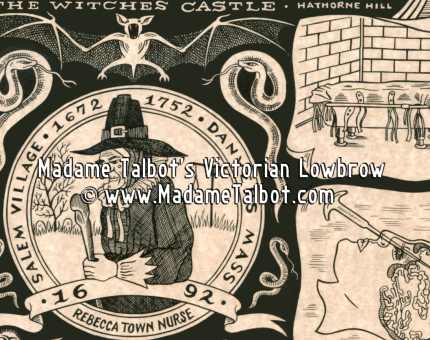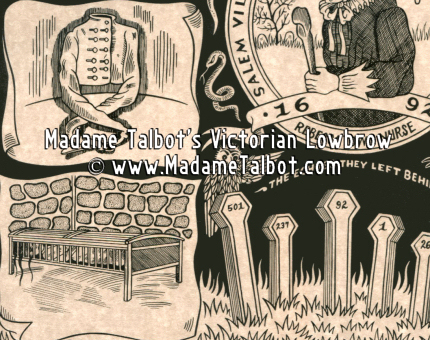 Danvers Insane Asylum Poster
#PSTR-1105



The Danvers State Hospital, also known as the State Lunatic Hospital at Danvers, The Danvers Lunatic Asylum, and The Danvers State Insane Asylum, was located in historic Danvers, Massachusetts.

The town of Danvers was once called Salem Village - this was where the Witch Trials of 1692 happened.

On March 1, the accused witches were interrogated in the Meeting House amidst the horrific fits of the "Afflicted Ones" and later put to death. Many unfortunate as well as noble and brave actions transpired in the Meeting House.

Below is the list of those whose deaths were attributed to the trials:

Nineteen accused witches were hanged on Gallows Hill in 1692
June 10
Bridget Bishop
July 19
Rebecca Nurse
Sarah Good
Susannah Martin
Elizabeth Howe
Sarah Wildes
August 19
George Burroughs
Martha Carrier
John Willard
George Jacobs, Sr.
John Proctor
September 22
Martha Corey
Mary Eastey
Ann Pudeator
Alice Parker
Mary Parker
Wilmott Redd
Margaret Scott
Samuel Wardwell

Giles Corey was an accused witch (or wizard, as male witches were often called) and was put to death on September 19 when he Corey refused to enter a plea of guilty or not guilty. Giles Corey was pressed to death, also known as "peine forte et dure". In this process the prisoner is stripped naked, with a heavy board laid on his body. Then rocks or boulders are laid on the plank of wood. This was the process of being pressed

Other accused witches who died in prison:
Mercy Good (infant child born and died in prison to Sarah Good)
Sarah Osborn
Roger Toothaker
Lyndia Dustin
Ann Foster

(As many as thirteen others may have died in prison though these number are not exact)

The hangings of the victims of the Witch Trials took place on a hill called Gallows Hill. There is a nondescript little hill below the water tower location, just over what was the boundary line of the Port of Salem (across a bridge called Town Bridge that existed on the site) and close to where the water was.

Benjamin Nurse was said to have rowed a boat from the Nurse homestead to the foot of Gallows Hill in order to retrieve his mother Rebecca's body from the site.

In 1702 the Meeting House was abandoned, dismantled and removed to another site until the lumber "decayed and became mixed with the soil".

For a complete chronology of events relating to the Salem Witchcraft Trial of 1692 (Which did not occur in Salem, Massachusetts but at Salem Village, Massachusetts) please click here.

The site known as Hathorne Hill (located about a mile from where the original Meeting House stood) was once the location of the home of the Salem Witch trial Judge John Hathorne.

Hathorne Hill was the chosen site where the new Danvers Hospital was to be built. Construction began in 1874 and opened in 1878 under the supervision of prominent Boston architect Nathaniel Jeremiah Bradlee and Philadelphia psychiatrist Thomas Story Kirkbride.

Dr. Thomas Story Kirkbride, who served the Pennsylvania Hospital as the superintendent from 1841-1883 created a humane and compassionate environment for his patients, and believed that beautiful settings restored patients to a more natural "balance of the senses". Dr. Kirkbride's progressive therapies and innovative writings on hospital design along with management became known as the Kirkbride Plan, which influenced, in one form or another, almost every American state hospital by the turn of the century including Danvers.

Danvers State Hospital is rumored to have also been the birthplace of the frontal lobotomy. Reports were made that various, and inhumane shock therapies, lobotomies, drugs, and straitjackets were being used to keep the crowded hospital under control. This sparked controversy. By the 1960s as a result of deinstitutionalization, the inpatient population started to decrease.

Massive budget cuts also prompted the hospital to began closing wards and facilities as early as 1969. By 1985, the majority of the original hospital wards were closed or abandoned.

The Kirkbride administration building closed in 1989. The entire Danvers State Hospital campus was closed on June 24, 1992.

As of December 2013, those buildings that were not demolished have been renovated and are now an apartment complex.

The only thing left from Danvers State Hospital is the original cemetery where the previous hospital residents are still buried.

This poster is 17 inches wide by 22 inches high, generous black ink lushly printed on parchment stock.






---
PLEASE NOTE:
This poster image was hand-drawn by Madame Talbot using General's Cedar Pointe #333-2HB pencils on Crescent 201.6 Hot Press Medium Weight illustration board at original poster size. An antique Koh-i-Noor rapidograph pen and Dr. P. H. Martin's Bombay Black India ink were used for final inking.

After completion, the image was hand-delivered to Ryan Gwinner Press in Portland, Oregon and printed on an offset printing press.

Absolutely no computers were used in the creation of this poster - from start to finish.

The copyright notice is on the website image only and not on the printed poster.
---
---