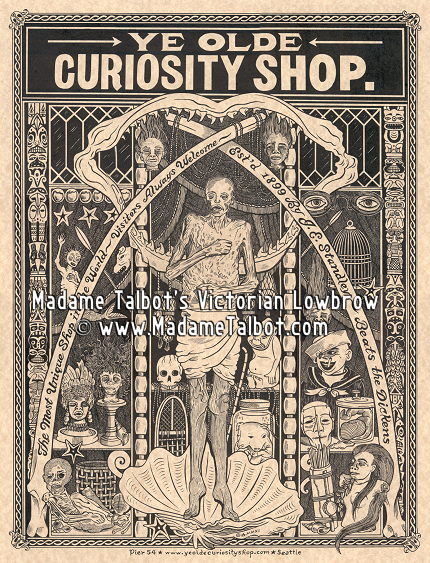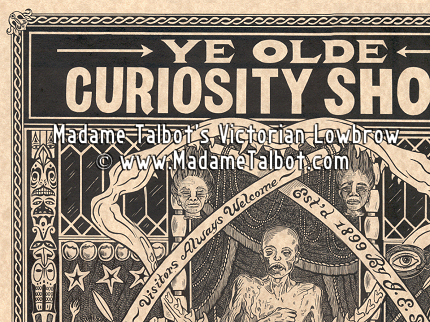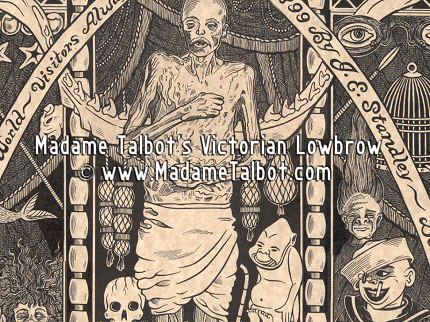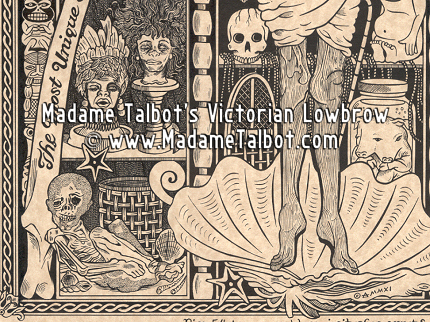 Ye Olde Curiosity Shop Poster
#PSTR-1088




We are very proud to present this one-of-a-kind poster that was created just for the world famous Ye Olde Curiosity Shop Poster in Seattle, and is being sold at Ye Olde Curiosity Shop Poster or through Madame Talbot stores ONLY.

This poster is a combination of Ye Olde Curiosity Shop Poster's most popular exhibits:

First and foremost, Sylvester the world-famous Mummy
6 real human Shrunken Heads
Medical Ed
Native American Totem Poles
Quiver for Poison Arrows
The gaping jaws of Tobaco Bill, the most Feared Shark in the World
Star Fish and Sea Shells
Native American Indian Beads
The Mermaids
Gloria the Mummy
Native American Baskets
Large Geoduck in a Jar
Whale Jawbones
The ever popular Billiken
Real Human Skull
Spears
Large Eyeglasses
Old Bird Cage
Giant Clamshell
Eskimo Snow Shoes
Two-Headed Pig in a Jar
and Jolly Jack the scary laughing sailor!






This poster is 17 inches wide by 22 inches high, generous black ink lushly printed on parchment stock.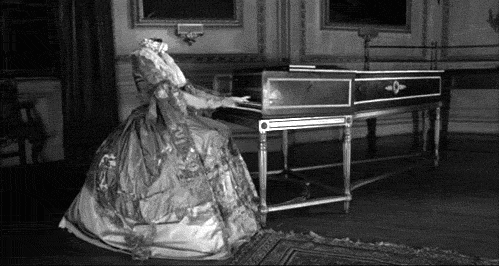 ---
PLEASE NOTE:
This poster image was hand-drawn by Madame Talbot using General's Cedar Pointe #333-2HB pencils on Crescent 201.6 Hot Press Medium Weight illustration board at original poster size. An antique Koh-i-Noor rapidograph pen and Dr. P. H. Martin's Bombay Black India ink were used for final inking.

After completion, the image was hand-delivered to Ryan Gwinner Press in Portland, Oregon and printed on an offset printing press.

Absolutely no computers were used in the creation of this poster - from start to finish.

The copyright notice is on the website image only and not on the printed poster.
---
---