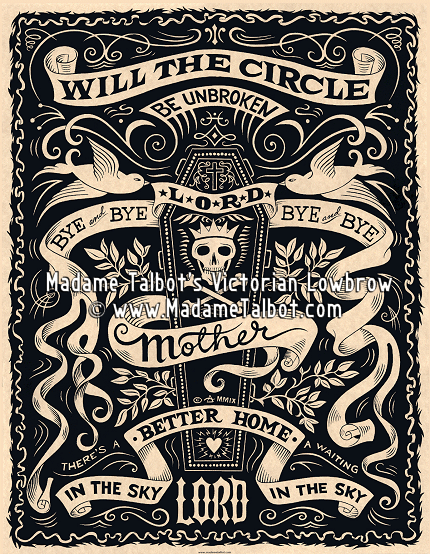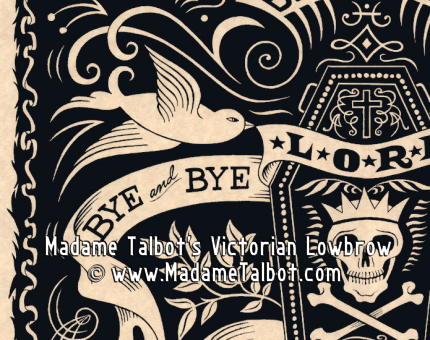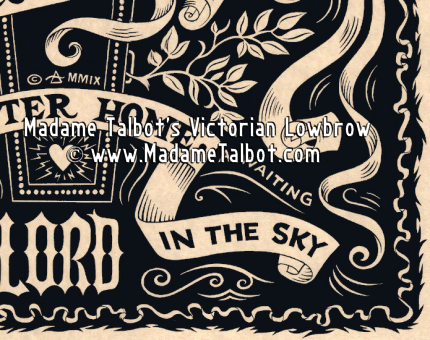 Will The Circle Be Unbroken Poster
#PSTR-1058




This poster was inspired by an old Southern Gothic Bluegrass song:

Will The Circle Be Unbroken

I was standing by the window
On a cold and cloudy day
When I saw the hearse come rolling
To carry my mother away

Will the circle be unbroken
Bye and bye Lord bye and bye
There's a better home a waiting
In the sky Lord in the sky

I said to the undertaker
Undertaker please drive slow
For that body you are carrying
Lord I hate to see her go

Well I followed close behind her
Tried to hold up and be brave
But I could not hide my sorrow
When they laid her in that grave

I went back home Lord that home was lonesome
Since my mother, she was gone
All my brothers and sisters crying
What a home so sad and alone

(This is the Stanley Brothers version, which is the best)

This poster is 17 inches wide by 22 inches high, generous black ink lushly printed on parchment stock.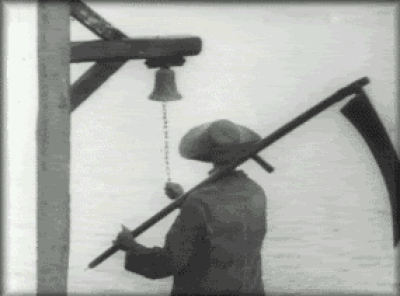 ---
PLEASE NOTE:
This poster image was hand-drawn by Madame Talbot using General's Cedar Pointe #333-2HB pencils on Crescent 201.6 Hot Press Medium Weight illustration board at original poster size. An antique Koh-i-Noor rapidograph pen and Dr. P. H. Martin's Bombay Black India ink were used for final inking.

After completion, the image was hand-delivered to Ryan Gwinner Press in Portland, Oregon and printed on an offset printing press.

Absolutely no computers were used in the creation of this poster - from start to finish.

The copyright notice is on the website image only and not on the printed poster.
---
---