The Mummy Congress
#ODD-826
---
For your consideration:

The Mummy Congress

by Heather Pringle

Paperback:

384 pages

Reprint edition (June 19, 2002)

Heather Pringle is a journalist and writer who has written on archeology and ancient cultures in numerous magazines including Discover, National Geographic Traveller, New Scientist, Science and Geo.

She is also the author of two books, including In Search of Ancient North America. She lives in Vancouver, Canada.

The Mummy Congress starts with the convening of Third World Congress on Mummy Studies in Arica, Chile and gives us a good sense that this small field of study is made up of very dedicated people that share the same (almost maniacal) interest in mummies. Absent seem to be the snake oil salesmen, taking the liberty of calling themselves Egyptologists, we are more familiar with.

Pringle uses the characters at the congress as her jumping off point for her narrative about the various kinds of mummies that exist, the way they are discovered, preserved, studied and at times desecrated for profit.

Some of the things you will learn about while reading:

* The dissection of mummies in Egypt where they are more plentiful than anywhere else and where the bits and pieces of those not fortunate enough to have celebrity mummy status end up.
* Studies of mummies for ancient drug use and parasites that inhabited them while alive.
* Origins of the "Bog People" and their ritual killing before being tossed into bogs.
* The origin of the word "mummy" and it's roots in the for profit capitalization of ground up mummy bits packaged as medicines, elixirs and artists paint.
* Famous sideshow proprietors of mummified remains and their exhibitions.
* The Vatican's interest in the study of mummified remains.
* The mummification of Communist leaders.

An overall well written book that manages to convey lots of factual information (with a meaty bibliography and a good index) while keeping the reader entertained with colourful characters and vivid descriptions of this fascinating field of study that spans the entire globe.

If you like non-fiction and/or mummies this is a great read.

Condition: Gently read.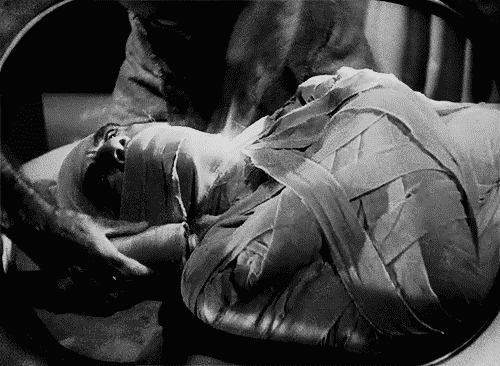 FREE SHIPPING IN THE USA ONLY
-- NO INTERNATIONAL ORDERS --
---