Diableries: La vie quotidienne chez Satan à la fin du 19e siècle
#ODD-339
---
For your consideration:

La vie quotidienne chez Satan à la fin du 19e siècle

Hardbound
150 pages
Profusely Illustrated
Publisher: Balland
Date Published: 1978 (French)

This is an incredible book made up entirely of photographic diorama sculptures of Satan and his hell-mates.

If you are unfamiliar with the book's contents, the theme is basically what the life of Satan would have been like had he lived in France during the late nineteenth century. Satan is depicted in the dioramas as an above average, well-off, French citizen.

The works themselves are incredibly detailed and very well executed. The themes range from humorous, to festive, to horrible, and even cautionary.

Some of the themes:
Satan and his Marriage
Satan and his Wife
Satan being chased from Paradise
Satan and his Maids
Satan's maids luring dead souls in the woods
New Years Eve in Hell
Stock Market in Hell
the Torture Chamber
Casino in Hell
a walk through the Park in Hell
War - the Great Harvest
Sporting Events in Hell
and so on.

There are 72 different Diableries as one complete set, all with french subtitles.

I find it amazing that someone would be able to do something this extreme (this is some serious crafting here), and from some of the dates, it looks like this would have been a ten year hobby.

From doing some Internet research, some believe that these were produced as social satire on the regime of Louis Napoleon Bonaparte who, as Napoleon III, was Emperor of France from 1852 to 1870. Any type of extreme lampooning of him or his government was a one way ticket to a long imprisonment!

The dioramas were created on table-tops and used small clay models. These little clay models were put into different poses and were used over and over again. To give one an idea just how small these were, there is one view where the actual table legs are visable, and another view where a real stuffed blackbird was used.

This is the only book that is devoted to these diableries which was written by Jac Remise. He was the same author of "Magie Lumineuse" which dealt with the Pre-cinema.

Most of the Stereo Diableries are anonymous, although 25 images depicted in the book have a signature in the plaster. Three different names are found in the plaster, Hennetier, Habert and Cougny. Also, if one were to really study each photo they can find hidden messages and symbols within the photographs. These have been attributed to Hennetier and Habert.

Stereo World volume 30 #4 contains a good article on the classification of Diableries by Bob Schreiber - much of the research carried out in collaboration with the late Tex Treadwell.

Should you decide to take the plunge and purchase this amazing book, you should take good care of it, the black pages do smudge easily from oily fingers so I would advise to wear gloves when looking at the pages.

This book has been gently read, the spine has been bumped and edge wear on covers but the pages are clean and bright - this is a very good copy of this incredibly rare book.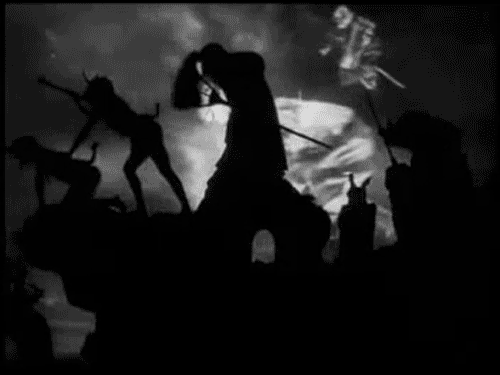 FREE SHIPPING IN THE USA ONLY
-- NO INTERNATIONAL ORDERS --
---