William Marwood
Hangman's Locket
#ODD-1139
---
From my Private Collection.

This is what is known as a Hangman's Locket.

These were made during the Victorian era and consisted of a skeleton, a gallows and a bit of hangman's rope.

After a particularily exciting and notorious hanging, just as soon as the victim was sufficiently dead and had been cut down, one could line up in order to buy a bit of execution merch directly from the hangman.

This usually consisted of an inch or more of hangman's rope, or if one was lucky, a bit of gallows chips.

These gallows souvenirs were highly coveted and were said to bring good luck.

If the rope contained any death sweat from having come in direct contact with the neck during the hanging, this particular piece of rope was especially desirable and were sold for extremely high prices.

Rope saturated with death sweat was thought to have considerable curative powers for those suffering a sore throat, whereas chips of wood from the gallows was considered an effective cure for the ague (a fever) or a toothache,

Hangman's rope was also popular with gamblers, it was considered good luck to carry a piece into a card came. Even today there is an old saying, "You carry a rope in your pocket," refers to someone who is lucky at cards.

The lockets that were made during the Victorian era were not made by the hangmen, they only supplied the rope and gallows chips.

Once the rope was purchased from the hangman, it was taken to a local jewelry shop by a customer (or by the jeweler himself) and it was the jeweler who crafted and sold these hangman's lockets.

Some lockets displayed only rope, and for an extra fee, the jeweler could also furnish a skeleton, and a gallows, all of which were placed inside a double glass locket.

These lockets were hung from a necklace for the ladies or watch fob chain for the gentlemen.

Below are three examples of Victorian era hangman's locket that I found on the Internet:



This one is currently in the collection of the Whitby Museum, which you can see the original page by clicking here.



And the one above is in the collection of the Pitt Rivers Museum, which you can see the original page by clicking here.



And this one was sold on eBay about a year ago. You can see a photo of the eBay locket on Pinterest by clicking here.

And yet, with all of these lockets, there is absolutely no mention of the name of the hangman, the date and location of the hanging and more importantly, the name of the unlucky person(s) who was hung by that rope inside those lockets.

Because there is absolutely zero provenance on any of the above lockets, I have to believe that many (not all) of these lockets were made by jewelers who sold them as ready-made merch after an execution.

If these are authentic hangman's locket's, it is unfortunate that extremely important details of the execution as well as the name of the executioner and victim were lost to history and all that remained was a locket, with a piece of anonymous rope tucked inside.


---

For your consideration:

What I am offering is an actual authentic William Marwood Hangman's Rope Locket, complete with antique chain and case.

I purchased the ropes and personal effects of Victorian England Executioner, William Marwood from the Billy Jamieson Estate.

When Billy was alive, I helped him research these ropes and persuaded Billy to buy them as I felt they were authentic.

Here is a photo of the current Marwood Ropes and Personal Effects which is now in my private collection:



And here is a photo of the man himself, William Marwood:




And here is the story about William Marwood and his Hanging Ropes:

There is a rather famous account from the Illustrated London News describing an execution by William Marwood.

The writer wrote that Marwood first came out before the prisoner and gave an enthusiastic explanation of his equipment and method much like that of an impresario before a music hall act.

The writer also found Marwood's actions unseemly as well as his rough handling of the prisoner in his efforts to speed things along.

Marwood bragged to his audience that he used the same ropes many times over and the writer remarked that the ropes did indeed look as good as new.

His predecessors before him had sold their ropes by the inch after a hanging, whereas Marwood gathered up his ropes and took them back home and hung them in his cobbler shop, which was located in Horncastle, Marwoods home town.

Marwood later made his own wooden display cases which were finished with his more famous hanging ropes, other tools of his trade along with keepsakes he aquired from his victims.

These wooden box displays were exhibited at the annual Fair in his home town of Horncastle sometime during the late 1870's.

He even conducted mock hangings for the amusement of the crowd, and was considered one of the first "rock star" executioners in England.

Later, his displays and many other of Marwood's personal effects ended up on permanent display at the Portland Arms where Marwood was said to have lodged whenever he was in the area for an execution.

Death of a Hangman
William Marwood was a cobbler by trade, but the 65-year-old man had personally killed 175 men and women.

For, when he was not mending shoes, Mr Marwood was Britain's executioner. The supposedly-religious man reveled in the attention his sideline attracted and even handed out business cards which read: "William Marwood Public Executioner."

Executioners in Victorian times were not only celebrities, they were also well-paid. As well as his train fare, Marwood was paid £10 per hanging, plus an annual retainer of £20.

He also got to keep the condemned man's clothes.

Marwood died on September 4, 1883. Records claim this was due to "inflammation of the lungs".

William Marwood (period in office as offical executioner 1874-1883)




In 1955, a photograph was taken of the Marwood Ropes and Personal Effects display board while it was still on display at the Portland Arms Pub.

This photograph below was used in a press publication on executions in Lincolnshire that was dated 2001.

There appear to be 30 items still mounted on the display board at this time, and the display had originally been turned what is now upsidedown.




From what I was told, there is a Portland Arms pub in Portland Street, Lincoln, today but the building looks too modern to be Victorian. I had heard that the Marwood's ropes that were displayed at the Portland Arms were stolen sometime in the 1950s by a thief who made his getaway on a motorcycle.

Eventually the three Marwood Rope Displays found their way for sale at an antique store in England during the late 1950s.

The Marwood Ropes display did not turn up again until 2008, this time when Billy Jamieson was offered to purchase the Marwood Ropes and Personal Effects by a dealer in New York City named Rick G.

Amazingly, while Rick G. was a child, he saw with his own eyes these very same ropes along with two other similar cases in that same antique shop back in England in 1958.

By the time Rick G. had acquired the display, most of the artifacts had been stolen or fell off missing, and all that was left was a faded photograph, a card with smaller fragments of writing glued to it which were the key to the various other items in the box, the purse which probably belonged to Miss Pearson who was one of the victims executed.

There were bits and pieces, such as the syringe and a pen that has become detached from the board, a comb, cigar holder, pen nibs, handcuffs. There is a liquor flask marked "W.M." whereas the glass part of the flask has broken.

On April 25, 2009, Billy Jamieson purchased the Marwood Ropes Display and Personal Effects and had them sent from New York City to his residence in Toronto, Ontario, Canada.

On July 3, 2011, Billy Jamieson died suddenly and his collection was eventually sold off.

I purchased the Marwood Ropes in November of 2012 from the Billy Jamieson Estate and as soon as it arrived, I immediately called Rick G. for more information. He confirmed to me over the phone that when he was a child, he saw not only this very same Marwood display, but that there were a total of THREE Marwood Rope Displays at an antique store in England in 1958.

He said that all three displays had ropes in them and that one of the displays, the the ropes were painted white.

This is all confirmed by a label from the very same antique shop where all three were once for sale in 1958, that is still adhered on the side of the display currently in my private collection.


---

About the rope:

The rope that was used to make this William Marwood Hangman's Locket was gathered from stray pieces located on the very end that is attached to the metal rig.

Those lone stray fibers that were snipped, and does not in any way affect the original integrity of the original rope in the display.

The stray long rope fibers were carefully snipped from the left side of the current display, and in the 1955 photo, the right side of the display before the display was stripped of most of its items and turned upside-down.




And here is the list of people who were hung by William Marwood having used just this one rope:

'This rope used by Marwood
In the year 1875 -
Aug 2nd Gilligan [Michael Gillingham], Durham
Aug 10 [9] Peter Blanchard, Lincoln
Aug 12 [11] Joseph P Le Brun, St Heliers [Channel Islands]
Sep 6 Cooper [Edward Cooper], Liverpool
Oct 5 Patrick Docherty, Glasgow
Oct 19 David Wardlaw, Dumbarton [Scotland]'

The Wardlaw execution in Scotland on 19 October 1875, this was the occasion when Marwood hit the press for submitting a large drinks bill!


---


This is one of two lockets I am selling.

This locket was sold a few years ago but was sold back to me because of unfortunate circumstances.

The other locket was made with the last of the stray rope I had. I was going to keep the bit of stray rope for a project I wanted to work on, but found a wonderful late Georgian locket and felt the rope would look wonderful in the locket.

The locket is a huge open French glass front locket.

The design is simple yet striking, featuring open glass on either side.

It is in great condition, crafted in unmarked silver metal.

This locket contains an articulated mini skeleton and the stray fibers of Marwood's hanging rope.

The skeleton (acid tested .925) is sterling silver charm and features a 2 part movable "Grim Reaper" skeleton with scythe.

The skeleton measures 1-1/4 inched in length.

The locket comes with a Victorian era watch chain which has beautiful patches of verdigris.

The locket and chain come in a very lovely and well-used round brown leather box.

The box is a gold decorative box with morie lining and is in very good condition for it's age, with some wear showing on the lid (visible in photos).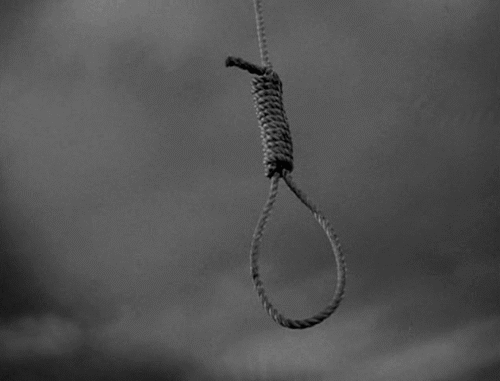 FREE SHIPPING IN THE USA
---